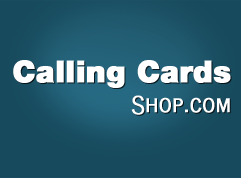 Calling Cards
Calling Card is a prepaid method of making long distance or international calls. Consumers purchase calling time in advance and use this time later for long distance calls from any land, cellular or public phone. Traditionally calling cards were manufactured as credit card size plastic card with PIN number and list of access numbers. In order to use a prepaid calling card customer need to toll free or local access number and a PIN number. PIN number is a unique, secured code associated with an account with certain balance. This prepaid calling card balance is used for payment for long distance calls made with calling card, allowing customer to place calls to any international or domestic destinations. Once PIN number is entered customer are getting automated message announcing available balance. At this point customer may dial any domestic or international number.
Calling cards are supplied by many long distance carriers and long distance service providers. Customer may change calling card at any time and try calling card from many long distance service providers, therefore competition on calling card market is very tough, customer have very wide choice and sometimes it is very difficult to select a right calling cards in very wide selection.
Calling Card Types
There are many different calling cards which focus on different types of calls, offer better rates for certain areas and differ in many different ways.
| Calling Card Type | Benefits | Concerns |
| --- | --- | --- |
| Clean calling cards with no hidden charges. | These calling cards are advertized as "absolutely no fees". Calling cards of this types could be used for any number of calls. Good for any customer. Safe choice. | Rates could be higher than on other calling card types. |
| Calling cards with connection or services charges. | This calling cards are most effective if entire balance of the card is used for one or for a few calls. In such cases calling card can offer excellent deal and real talk time with a price better then a wholesale carrier price. | If used for multiple calls, talk time is decreased significantly. Customer may get a very bad deal paying 100 times more that with a clean card. |
| Calling card with daily, weekly or monthly fees. | Such calling cards may offer excellent deal if entire balance of the card used in a short period of time. | Customer may get a bad deal if unused portion of the card is not used for some period of time. Customer may even loose entire remaining balance if not used in certain period of time. |
| Calling Cards with focus on certain countries or geographical areas. | Could provide a very good deal for calls to advertized countries. | Usually offer very high rate to countries not heighted in advertisement. Could be a bad deal if customer calls to more than one country. |
Shopping for calling cards in traditional stores
Calling cards are available for purchase in wide range of convenience stores, gas stations, grocery stores and many other point of sale. Calling card posters are displayed in many store widows. However in most cases traditional stores carry only calling cards for one of few suppliers. In many cases store owners choose to carry only calling cards from supplier who offer the best whole sale price and best profit for store owner. In most cases customers are limited in store selection as they cannot run around many stores to buy a calling card for $5.
Shopping for calling cards online
Online marketplace offers a lot of advantages for shoppers for many different types of goods and services. One of the best advantages of shopping online is freedom of choice of products and wide range of stores available for shopping. Calling Cards could be purchased online from many different online stores. Since all stores are available at the same time for all customers, stores have to compete offering excellent quality of long distance service and unbeatable prices. Most online calling card stores are owned by long-distance service providers and offer only calling card from this service provider. However there some online calling card stores, which offers calling cards from many competing service providers. We offer to review wide selection of calling cards from www.ontariophonecards.ca. This online calling card store allows to compare cards and services from many long-distance carriers and calling card service providers. One of the very popular and known calling cards offered online are Bita Calling Card, CiCi Calling Card, Ertebat Prepaid Card, Sifa Phone Card and may many more Calling Cards By Email.